Bio.

DJ Masai
Orgin

Bronx, NY

Links

email

masai@djmasai.com

Genres

Caribbean · Classics · Hip-Hop · House · R&B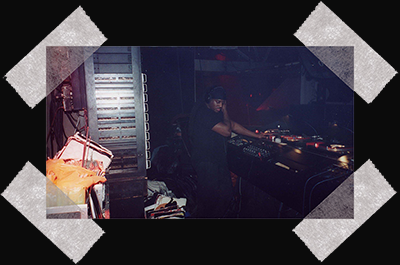 Long long time ago.
DJ Masai is the center of the storm.  He has been spinning for over 23 years.  DJ Masai has played in some of the biggest venues in the city and Tri-State area.  A regular customer at many of what some would call "historical" nightclubs (well before he was of legal age to attend them). DJ Masai just about always knew what elements were essential to rock a party.  I mean really, how many of us under the age of 40 can say they partied at the Paradise Garage or the original Sound Factory?
DJ Masai's following spans all five boroughs and several states.  For example, there are a number of people who actually drove to New York from Baltimore every month just to hear DJ Masai play at his First Friday After Work Mixer at the Roxy (now THAT's a fan base!).
Many people who have been to a party where DJ Masai is playing have been quoted, "finding themselves getting spoiled" from his style of DJing and oftentimes begin to resent how other DJ's play (one of the reasons that the before mentioned event now averages about 4 to 5 thousand party goers every month).
Whether it be Hip Hop or R&B, Reggae or Calypso, House or Classics, Go-go, Meringue or Salsa, DJ Masai is one of the few DJ's who can really play everything…….and well!
DJ Masai – The Whole Story
DJ Masai began his career as a Disc Jockey 22 years ago.  He attempted to get work as a DJ, but since he was unknown (and under age), promoters were reluctant to hire him.  Feeling outraged for the lack of doors being opened to him, he decided, with his brother, to start promoting and DJ'ing his own parties in the North East section of the Bronx.  He threw scores of parties at the NAACP Community Center, which created an outlet for the younger generation and young adults to party in the North East section of the Bronx.   Soon to follow he would throw parties at the Stardust Ballroom, Club Barcley's and The Cricket Club, which were all well known clubs in the Bronx.
With his popularity growing, he decided to move his venues to Manhattan, starting with a number of loft parties, as well as a number of parties in collaboration with several promoters of the day at Club Harambe.  In the early 90's he got a permanent gig at the old Club Savage on Saturday nights DJ'ing under Don Welch, who at the time was one of the most popular DJ's in New York.  His popularity was on the rise.
By this time DJ Masai had developed a faithful following, however, he had not achieved his goals of being the highly sought after nightclub DJ that he knew he was.  Subsequently, he started doing birthday parties, weddings and company parties, though he still lusted for the primetime nightclub scene.  One day while watching the news, he learned of a club in the North East section of the Bronx that was about to be closed down due to its illicit activities.  He saw an opportunity to branch out on his own.  What ensued was a discussion with the owner which ultimately gave birth to a partnership and a new dance club, ironically called Club Scandals.
During the 3 years that Club Scandals was operating, Hot 97 would broadcast live from the club on a weekly basis.  Club Scandals also provided an outlet for Comedians, Artists, Singers and aspiring Fashion Designers to show off their talents amongst their peers.  On any given weekend, you could find yourself in the company of an up and coming DJ Funk Master Flex, aspiring comedian Rob Stapleton and a determined young fashion designer who called his clothing line, Moshood.  The North East Bronx which never before been a 'place to be' in the nightclub scene, was now a very big blip on the night life radar.  You could easily find Brooklynites, Harlemites, Manhattanites, Queensians, Long Islanders and Westchester folks all heading to the Bronx on the weekends; a feat never before accomplished or duplicated.  DJ Masai's popularity grew in all 5 boroughs and beyond.  It goes without saying that party promoters large and small hopped on the bandwagon and frequently approached him to DJ their parties.
Now you can find DJ Masai performing at all the hottest night clubs, parties, comedy shows, crab fests, boat rides, ski-trips, etc., spinning all the latest R&B, Hip Hop, Reggae, Old School, Go-go and House music.
With his home phone (for the privileged), cell phone and TWO pagers (count'em) ringing around the clock, it became apparent to him that he should contract other DJ's in his circle that love the work as much as he does.  This has inspired him to form Universal DJ's For Life.  This extension allows seasoned and up and coming DJs to work with him, hone their skills and get the opportunity to play at clubs and venues which were not readily available to him when he was starting out.
Not only is Universal DJ's For Life a top-notch DJ company, but it also is a full functioning, state of the art P.A. and Sound Company.  With literal 'trailer loads' of speakers, amps, equalizers, mics, crossover units and the like, the Universal DJ's sound company has been known (literally) to 'shake, rattle and roll' clubs, arenas, blocks, homes, etc. (some of these set ups are absolutely awe-inspiring).  Combine highly talented DJ's with hi-tech, professional sound set ups, and you get pound for pound a DJ/Sound company that cannot be matched by it's competition.
Presentation and flow is DJ Masai's signature.  He takes his ear for music and creates a sound that is unique, special and unable to be duplicated.  His loyal following knows that they will get not only great music, but a man who truly knows and loves what he is doing.  As one record blends with the next, oftentimes you can't help but to jump up and 'shake what your mama gave ya'.  He spins the records on the turntable like a renowned musician playing an instrument.  An experience to behold and not likely to be forgotten
DJ Masai now looks to further his dreams and aspirations and "go to the next level" which includes radio, music production and acting.  His father once told him, "You are a Dreamer"……….DJ Masai's motto is "Never Give Up On Your Dreams".
Written by     Lewis Savage of Industry Networkz & Cheryl Kent of Universal DJ's For Life